Index
Materials
used to
make
divider tabs and
how to
print text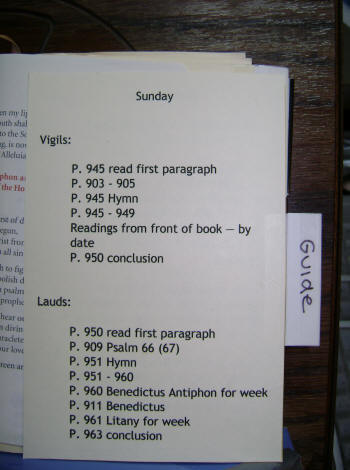 ** Click NEXT on the right side of the screen to view the next page.
Go to Page 945 in Benedictine Daily Prayer (BDP).

This divider gives a page-by-page list of how to pray a divine office for Sunday Vigils (the night office) and Sunday Lauds (the morning office) when a Sunday has no special feasts.

On other Sundays that are special feast days, parts of the sections of the Sunday divine office (as shown here on the listed pages ) are replaced by the sections from the divine office for that feast. Those special feast day sections are in the back half of BDP.

Benedictine Daily Prayer does a good job of letting you know when a special feast day supersedes some part of the regular divine office for a day.

The following pages show how I set up the divider tabs I use and where I put them in BDP.